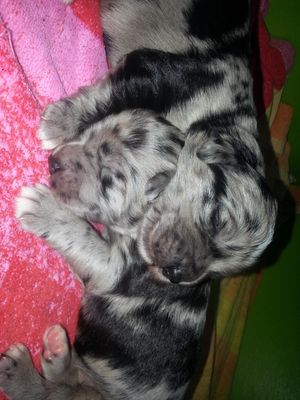 Puppies September 27th 2014! 
When I found Bergamascos and got my first in 2008 I had hoped that I could have a positive impact on the breed in the US.  Bergamascos are relatively new to the US and the numbers and gene pool are relatively small.  I had hoped to contribute a litter or two of healthy, sound, stable puppies.  I believe in using science (health testing) as well as studying pedigrees and evaluating structure and temperament to decide which dogs should be bred.  I also feel we should be transparent with the results of our health testing and breed only the healthiest of dogs in order to preserve the future of this amazing breed.
Zea
has it all. 
OFA good hips and normal elbows
, FCI Standard (country of origin) structure, perfect scissors bite and a sweet personality.  She has a beautiful strong gait and is fast and agile. She is from a well-respected  Bergamasco Kennel in Italy, Luigi Cavalchini's, 
 Di Valle Scrivia
.  I am excited to have found a male who was imported almost ten years ago from another well-respected kennel in Italy, Lele Mariani's,  
Allevamento Dei Lupercali
. Both kennels have raised Bergamascos for generations of their families.  In fact Luigi's father and Lele's mother were two of the three breeders responsible for saving the breed from extinction after World War 2.   I am thrilled and honored to be producing puppies that will represent both lines.
Midir,
AKA Lorenzo, has been kept as a much loved family pet, and fortunately was never neutered. 
His hips were OFA Excellent
at nine years of age and his
elbows are norma
l!  He is a lovely mover with a nice bite and excellent structure.  And he is a sweetheart!  And all of this at almost ten years of age! I am so lucky to have found him and his family.  
They were bred in late July and Zea delivered a small but mighty litter of lovely Bergamasco puppies September 27th.  Two merle boys and one merle girl. The pups had lots of room to grow and the boys were both twice the size of a typical Bergamasco pup 21 oz and 18 oz.  Zea was amazing and pushed them out without a problem.  (She comes from good strong stock!)  I hope to find first of all loving homes but also homes that understand herding dogs and hopefully families that wish to work their dogs in performance of some sort and or show in conformation.  As we have so few it appears all are already spoken for but do write if you are interested as one might be available and if all goes well we hope to repeat the breeding.  I feel and have been told by experienced breeders that this should be an
amazing litter with a combination of bloodlines unlike any other born in the US.  

It is great to see how many of you from all over the world have visited our website.  We will be updating regularly!  Do visit often!